Pre-Covid, my plan for last summer had been 10 weeks of commuting into Canary Wharf, and working in Morgan Stanley's London office. Unfortunately, the global pandemic threw a spanner into those works, and I ended up with a 7 week, completely virtual internship. Working from home wasn't exactly what I had envisioned. But with the loss of post-work drinks and networking coffees came the extra hour I got in bed, thanks to my commute being reduced from 19 miles to about 1.9 metres.
In the grand scheme of things, Morgan Stanley left it quite late to officially move their summer internship to completely virtual. Like most of us, I think they had been hoping that normality would resume before August, and to their credit, put a lot of work into seeing whether interns could have at least a couple of weeks in the office. In the end, that wasn't possible, but I still feel like I had a decent internship experience. In lieu of any in person welcome events, they instead displayed all of our photos on their office billboards in Times Square. Obviously I was unable to see it in person, but they were kind enough to live stream it, and I think it was a pretty cool moment!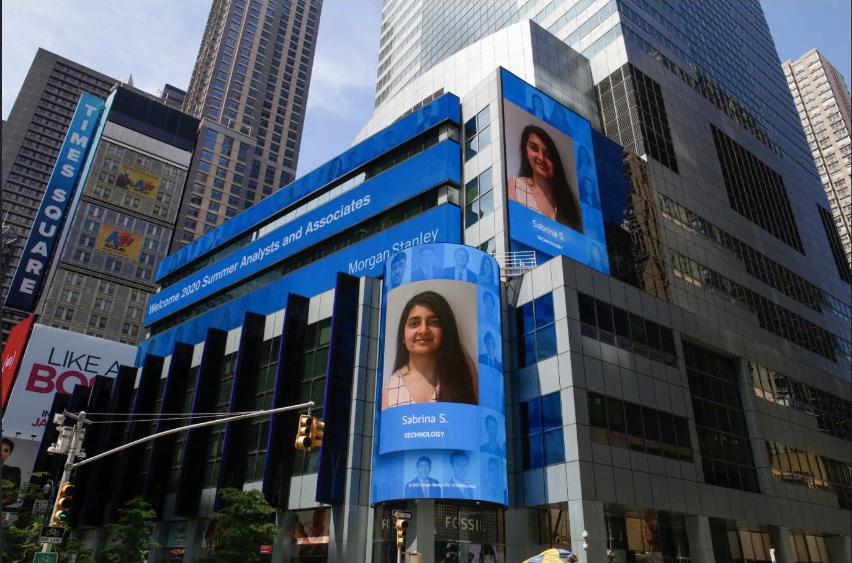 Starting three weeks later than originally planned meant I had some time to relax after term finishing, and in hindsight this meant I was in a much better place to actually start work, I had time to work out the best place in my house to set up a desk, an important consideration since I would be spending most of my time there over the next 7 weeks. I ended up prioritising the zoom background over accessibility, which meant every time I wanted access to my desk I had to climb over the bed, and that space was severely limited, but I made it work.
Over the course of my internship, I noticed three major differences between this new virtual setup and previous, in person internships I'd had. The lack of 'office vibe', for me, made it quite hard for me to concentrate on work, especially when I had easy access to a fridge full of food. I could hear my family talking downstairs, and would often have our cat trying to get access to my 'office' by scratching at the door. Luckily I was on a well established internship programme, so had at least one form of zoom seminar a day, which gave me a chance to have some human interaction with people other than my manager. I also found the Headspace app to be a real life-saver, as their 10 minute meditations really helped me to refocus when I was losing it slightly!
The second difference is networking. Whereas in an office I would have sat amongst my team members, and been meeting the other interns in person, the virtual aspect meant I actually never saw the faces of most of my team. It was quite a different experience, and not being able to just tap someone on the shoulder and ask for help meant that I found myself taking a lot longer to complete my project than i would have expected. Although I had daily meetings with my manager, attempting to screenshare and explain my code was more difficult than expected, and forced me to become a lot clearer in my descriptions of problems, and to really understand what I was writing. Internships involve both professional and personal networking, and I really felt I missed out on the opportunity to get to know most of my fellow interns. Luckily I had converted from a spring week, so already knew those that I had met last year. We organized weekly lunch catch ups, and it was comforting to know that I wasn't the only one with no clue what was going on. It's a shame that I never got to meet most of the interns in person, considering a large percentage of us converted to grad jobs and will probably be working with each other next year, and it makes me all the more excited to finally start in the office, whether that is in August at the start of my grad scheme, or later on.
A large part of the social aspect of my summer internship was lost due to COVID-19. Being in lockdown meant that it was pretty much impossible for me to meet up with any other interns, even if they lived within travelling distance. It also meant no after work events, such as the famous end-of-internship drinks, or free food from the networking lunches. Although it was a shame to miss out on these things, I am grateful that I got to complete my internship at all, as I know others who had their placements cancelled altogether. All in all, I completed the same work and had the same talks and seminars as was originally planned, except everything was done from one room in my house. And while it might not have been as exciting as an in-person internship, I still learnt a large amount, and cannot wait to start my full time job with Morgan Stanley post graduation. I can't emphasise enough to anyone thinking about doing an internship post 3rd year how useful it was, and if you know what you want to do post university, securing a grad job early on can make your final year much less stressful! Of course, it's also totally fine to have no idea what you want to do, but internships are designed to give you a taste of what full-time employment in a sector is like, and I highly recommend seeing what's out there!